An Emerging Maintenance Concern in the Water Industry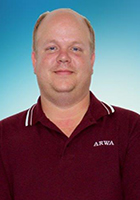 Rob White IV
South Alabama
Circuit Rider
By: Rob White IV, Circuit Rider #3
My travels have afforded me the opportunity to witness firsthand an amazing trend in the water systems of rural Alabama. More and more systems are replacing their manual read meters with more advanced radio read metering technologies.
While these technologies are amazing, and I hope every system will soon have access to this wonderful technology, I am concerned about a problem arising from the simplicity in which the monthly tedium of reading each and every meter in your system can be accomplished. While manually reading meters is very time consuming and allows for a greater degree of error than its automatic counterpart, it does afford the water system's employees the opportunity to visit each and every meter in their system regularly, assuring that all service connections are in perfect order and allowing the employee to immediately issue any work orders for maintenance concerns. Given the complexity of operating a water system, I am concerned that once the necessity of visiting your water meters physically each month is removed, some basic and critical
maintenance requirements may be soon overlooked.
While radio read meters drastically improve a water system's ability to immediately address customer usage concerns as well as compile and maintain individual customer usage reports, they simply cannot replace having a trained eye audit the physical service connection on a periodic basis. The biggest concern would be that given enough time, ever-changing environmental situations could result in the loss of the knowledge of the location of the service connection! Also, as service professionals, we have an ongoing responsibility to ensure the safety of our customers and broken or missing meter box lids could result in customer injury and leave the system vulnerable to liability concerns. Another concern is that unchecked leaks on the system side of the service connection could result in the negation of any profits realized with more advanced and accurate meters.
I commend any water system who has taken the initiative to find the means to better serve their customers with more advanced technologies, but I urge these systems to stay vigilant in their operations. My greatest concern is that in moving forward, some
water systems might become complacent in an area that will result in an overall reduction in the quality of service to its customers. While new technologies will definitely offer improved customer service methods, time honored and proven maintenance programs should not be discarded completely. Visit your service connections regularly and insure that your new technology remains a benefit to your system's performance .•
Article first appeared in Waterline, Fall 2012
- More News -