Member Services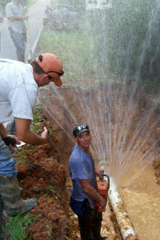 ARWA provides a wide range of services to help you manage your water or wastewater system.
Management and Operation Services
ARWA staff members are available to assist you with technical, financial, administrative and management services. Some of these services are listed below.
They are provided Free of Charge to your utility with the exception of Sanitary Sewer Smoke Tests.
To request assistance in any of these areas, call the ARWA office (334) 396-5511 or email us at arwa@alruralwater.com.