ARWA Circuit Riders
North Alabama


Darrell Brewer
Circuit Rider
dbrewer@
alruralwater.com

Central Alabama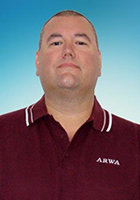 Andy Crawford
Circuit Rider
acrawford@
alruralwater.com

South Alabama


Justin Gardner
Circuit Rider
jgardner@
alruralwater.com

Energy Circuit Rider


Robert Newton
Circuit Rider
rnewton@
alruralwater.com
ARWA Circuit Riders provide a wide range of services statewide, including the following:
Emergency Response Plans
Inspection Binders
Electronic Transfer of MORS
Valve Locations
Water Rate Analysis
Water Conservation Plan
Bacteriological Monitoring
Sampling Site Plan
Other Management and Financial Assistance to more efficiently operate your utility
Request Assistance and Information
Thank you for your interest and participation. If you have any questions, please call the ARWA Office at (334) 396-5511.
Start Planning Now!

Save the Dates!



ARWA's 45th Annual Technical Training Conference

See you in
MONTGOMERY, Alabama

March 19-22, 2023



Registration is Open!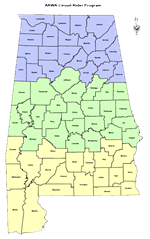 Alabama Map with
Circuit Rider Territories
Open for Registration

Operator Certification Classes
Water III-IV | Oct 10th, 2023
WW I-II | Oct 16th, 2023
Water I-II | Oct 17th, 2023
Learn More

See all open CEH classes
in our new training section at
training.alruralwater.com

Water University
Utility Management Certification
Learn More

Schedule your own
On-site CEH Training
Earn CEHs

Water Loss Protection
The ARWA/NRWA ServLine Program protects your utility against losses from customers' water leaks, and provides the opportunity for them to add service line repair replacement protection.
Learn more.
---
Pay Online
Pay any ARWA invoice online.
Pay Online
---
ARWA
Alabama Rural Water Association is a non-profit organization representing water and wastewater systems serving rural communities and towns and commercial firms which support these systems.
We provide assistance to comply with State and Federal regulations, to help with management and operational problems, and to stimulate training initiatives.
GET IN TOUCH
Alabama Rural Water Association
2576 Bell Road
Montgomery AL 36117 
Phone: (334) 396-5511
Fax: (334) 396-7090 
Email: arwa@alruralwater.com
Website: www.alruralwater.com