Water and Wastewater Training

Katie Hill
Training Manager
khill@
alruralwater.com

Mike Rief
Training Specialist
mrief@
alruralwater.com
The ARWA is the leading water and wastewater training organization in Alabama.
Operator Certification Exam Prep Courses
We provide water and wastewater operator certification test preparation schools in many locations to fulfill utility needs. We employ many water and wastewater contract instructors who are qualified to conduct these classes which cover all Water and Wastewater Grades.
Certification Schools are held for 30, 60, and 90 hours of study, depending upon the Certification Level. You can read more information in the Certification Training section of the website.
Go to the Certification Section at alruralwater.com/certification
Continuing Education Courses for CEHs
Continuing Education Training, needed to maintain certification as well as the learn valuable skills, is offered Statewide through the Association.
Registration for classes opens 3-6 weeks before the class date at which time you will be able to register online, by mail or by fax. The Training Calendar is updated as new classes approach so check back.
Go to the Training Calendar at alruralwater.com/ceh
Training sessions are designed to:
Provide information on specific subjects of interest
Inform Board Members and Decision Makers of their responsibilities and sources of help
Assist the Alabama Department of Environmental Management with current regulation updates
Provide the latest information and technology available to assist water and wastewater operations
Help prepare operators for certification by conducting schools for both water and wastewater
Member of the Alabama Operator Training Advisory Committee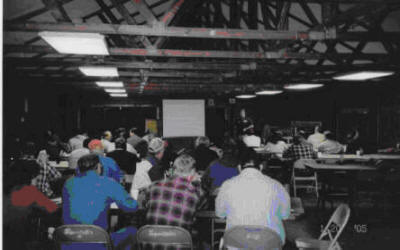 A Trenching/Shoring Safety & CPR Basics Training Session held in Alexander City is an example of our CEH training program. Twenty two water systems were present represented by 52 attendees. A total of 7.5 continuing education hours were offered to assist with operator certification renewals.
Other Training
If you need training or assistance that you don't see listed, complete our Training Survey. We want to assist you.
Online Training for CEHs
ARWA/SunCoast Online CEH Partnership
SunCoast Learning provides quality online training, written FOR water and wastewater professionals BY water and wastewater professionals. Learn more in the CEH Training section for Online Continuing Education Training.
Start Planning Now!

Save the Dates!



ARWA's 45th Annual Technical Training Conference

See you in
MONTGOMERY, Alabama

March 19-22, 2023



Registration is Open!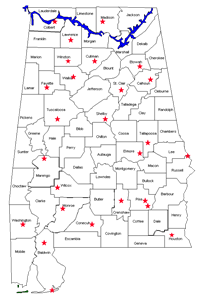 Training offered Statewide
Open for Registration

Operator Certification Classes
Water I-II | Jan 5th, 2024
WW III-IV | Jan 16th, 2024
Learn More

See all open CEH classes
in our new training section at
training.alruralwater.com

Water University
Utility Management Certification
Learn More

Schedule your own
On-site CEH Training
Earn CEHs

Water Loss Protection
The ARWA/NRWA ServLine Program protects your utility against losses from customers' water leaks, and provides the opportunity for them to add service line repair replacement protection.
Learn more.
---
Pay Online
Pay any ARWA invoice online.
Pay Online
---
ARWA
Alabama Rural Water Association is a non-profit organization representing water and wastewater systems serving rural communities and towns and commercial firms which support these systems.
We provide assistance to comply with State and Federal regulations, to help with management and operational problems, and to stimulate training initiatives.
GET IN TOUCH
Alabama Rural Water Association
2576 Bell Road
Montgomery AL 36117 
Phone: (334) 396-5511
Fax: (334) 396-7090 
Email: arwa@alruralwater.com
Website: www.alruralwater.com